– 4-Time Pass / Négy alkalmas bérlet
(4 x 90 minutes) / (4 x 1,5 óra): 8.000 Ft
for students / diákoknak: 7.500 Ft*
(4 x 60 minutes) / (4 x 60 perc): 5.500 Ft
for students / diákoknak: 5.000 Ft*
(valid from the purchase day till the next 4 group class / a vásárlástól számított 4 csoportos órára érvényes)
– Single ticket / Órajegy
(1 x 90 minutes) / (1 x 1,5 óra): 2.500 Ft
(1 x 60 minutes) / (1 x 60 perc): 2.000 Ft
(valid on the actual day / érvényes a vásárlás napján)
– Repeating ticket / Kiegészítő jegy**
(1 x 90 minutes) / (1 x 1,5 óra): 1.000 Ft
(1 x 60 minutes) / (1 x 60 perc): 700 Ft
(valid on the actual day / érvényes a vásárlás napján)
– Ladies' style workshop
(3 x 40 minutes) / 3 x 40 perc: 3.500 Ft
with valid dance lease / érvényes táncbérlettel: 3.000 Ft
– Body Inspiration workshop
(3 x 40 minutes) / 3 x 40 perc: 3.500 Ft
with valid dance lease / érvényes táncbérlettel: 3.000 Ft
– Private class / Magánóra
(1 x 60 minutes) / (1 x 60 perc): 7.000 Ft
(with 1.000 HUF room rental fee / az 1.000 Ft terembérlet díját tartalmazza)
* Student discount is only available upon presentation of a full-time student card issued by a Hungarian educational institution until the age of 25.
Diák kedvezmény kizárólag magyarországi oktatási intézmény által kiadott nappali tagozatos diákigazolvány bemutatásával érvényesíthető, a 25. életév betöltésének napjáig.
** With Repeating tickets you can visit both same-level class week by week. You can only choose this option next to a 4 lesson ticket.
A kiegészítő jegy két azonos szintű táncóra látogatására alkalmas hetente és kizárólag havi bérlet mellé váltható.
You can pay in cash and also with bank card (HUF / EUR ) from the following issuers.
Készpénzes és bankkártyás fizetés is lehetséges (Forintban és EURO-ban egyaránt) az alábbi kibocsátók kártyáival.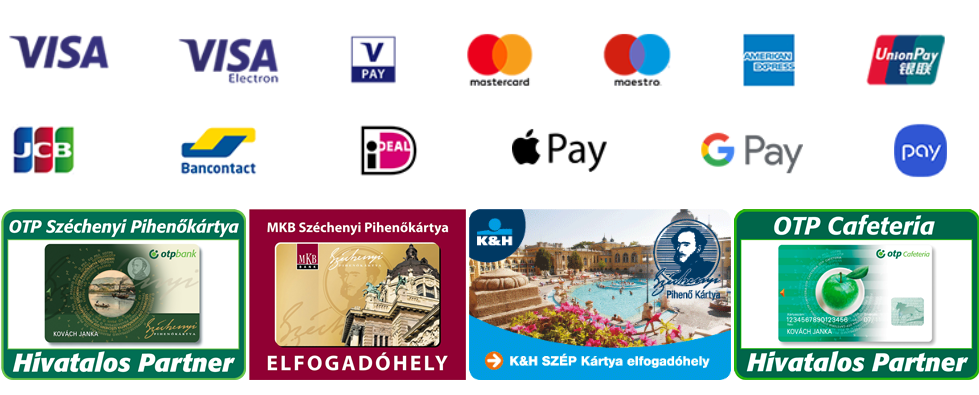 All of our courses can payable online with bank card, just click to Shop and choose the requested product.
In the same menu, all the dance classes (monthly passes, ladies' style and other workshops) can be charged to the 'leisure' sub-account with SZÉP cards issued by OTP, K&H and MKB bank. Online payment via OTP Cafeteria card is also possible, at the expense of the 'culture' sub-account.

Valamennyi óránk fizethető online bankkártyával, ehhez a megfelelő termék kiválasztása szükséges itt: Shop.
Ugyanitt OTP, K&H és MKB által kibocsátott SZÉP kártyákkal a szabadidő alszámla terhére lehet fizetni az összes táncórát (havi bérletek, ladies' style és egyéb workshopok). Online fizetés OTP Cafeteria kártyával is lehetséges, a "kultúra" alszámla terhére.
Card brieflings and issuer information / kártya tájékoztatók és kibocsátói információk
→ OTP Bank SZÉP card
→ MKB Bank SZÉP card
→ K&H Bank SZÉP card
→ OTP Bank Cafeteria card
Euros in cash are accepted but we can only return in Hungarian Forint. EUR prices depends on the current market rate.
Eurot készpénzben elfogadunk, de csak forintban tudunk visszaadni. Az EURO-ár az aktuális piaci árfolyam függvénye.
---
INTENSIVE COURSES AND OTHER WORKSHOPS MAY BE HAS DIFFERENT PRICES WHAT YOU CAN FIND IF YOU CLICK TO THE FACEBOOK EVENT OF THE CHOSEN COURSE.
AZ INTENZÍV TANFOLYAMOK ÉS EGYÉB WORKSHOPOK ÁRAI ELTÉRŐEK LEHETNEK, EZEK EGYESÉVEL, A KIÍRT KURZUS FACEBOOK ESEMÉNYÉRE KATTINTVA ÉRHETŐEK EL.